My Favorite Holiday Gift Ideas For Seniors
The holiday shopping season is upon us- already and our older family members are always the most difficult to buy presents for. Though many insist that the only gift they'd like is quality time with their children and grandchildren, it's really nice to bring along a thoughtful Holiday gift. 
Here are some ideas for that perfect gift,  they are mostly available online, making it super-easy to shop and send. 
eReader:   I think the Amazon Kindle is a great gift. It comes in a variety of sizes (and prices) and they are glare free. I really like its long battery life too.  You can view the entire "kindle family" here. 
Tablet: This 2023 guide from Forbes can help you find the best one for your parent (or you).  I think tablets are a great choice seniors because they offer more functionality with apps. I tend to gravitate to the IPADs because it offers FaceTIme  You can †use other communications options such as WhatsAPP, Zoom, GoogleMeet and others on other tablets. 
Digital Photo Frames:  Framed family photos are always a great gift. A digital frame is even better since you can add photo from an APP. . What's so wonderful about them is that all family members can add  pictures to frame which is controlled by an APP so there's no lag-time in sharing memories  Here's a guide with the top 5 recommendations from WIRED.com
For The Chef and Those Who Love to Putter Around in the Kitchen: There are so many fabulous gadgets that make cooking easier and safer for our loved ones.  For example, the digital measuring cup from TEMU accurately measures everything, liquid or dry.  And now, breakfast can be prepared in just a few minutes with this toaster and egg poacher from TEM.  A temperature controlled faucet light that fits on most kitchen sink nozzles is very clever. Once attached, the water will light up in a beautiful blue color when you turn on the tap. If it gets hotter, the color switches to red.  But my favorite is a set of cooking utentils from OXO (Ox-Oh) that are so fabulous for those with Arthritis. They have non-slip, flexible handles and come in attractive gift sets.  You can find these online at OXO or at a variety of stores including Crate and Barrel. 
For the Visually Impaired: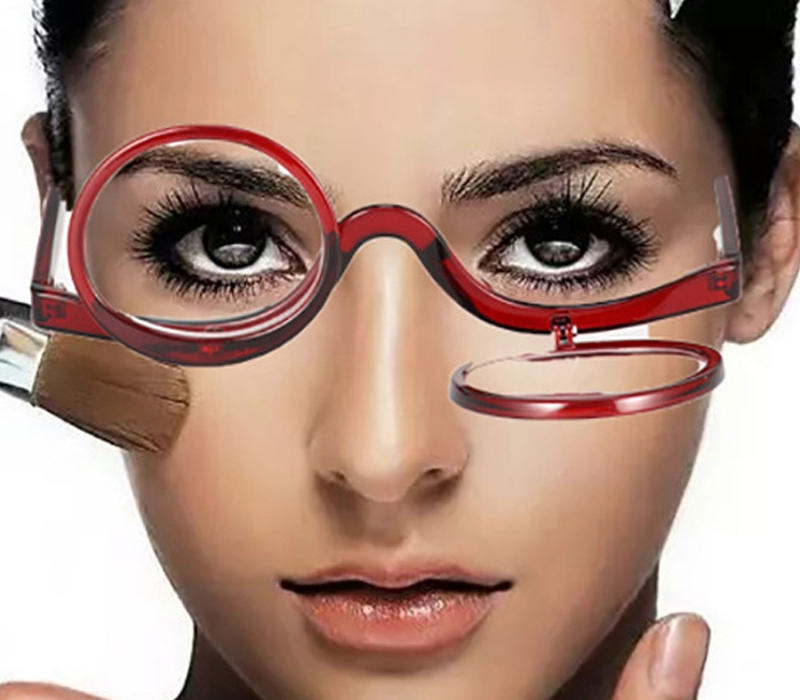 A magnifying glass makes a fabulous gift. There are many to choose from depending on how they're used or where they're kept. You can check some of them out on Amazon.  One of my personal favorites is a magnifying glass that helps apply eye make-up. Almost all women can use this. (see photo, right). You can find them by clicking here. 
And finally, how about a large TV/Audio remote controller from Big Button Remotes.  You'll find ones that are back lit and easy for those with arthritic hands to use. You can find these at Home Depot, Target, Walmart and Amazon and many other places. 
For the Hearing Impaired: A set of "TV Listener Wireless Headphones" is the perfect gift for someone who always needs the volume set on high. They allow someone to listen to to the TV, Stereo, Radio, or any other audio source at a comfortable volume, without disturbing others in the room. 
For the Comforts of Home: Hard to think of anything more comfy than snuggling up in a nice throw blanket while watching your favorite TV program or reading a book.  The Bedsure Fleece Couch blanket is a great gift. Another favorite of mine are the throw blankets from Minky Couture which come in a variety of colors, prints and sizes. 
For the Golfer: Bionic ReliefGrip Leather Gloves are especially great for those with arthritic hands. Some wearers claim that they even   increase swing speed and distance!  They're constructed so that they will help to keep your hands cool and dry, even on hot days.