Eat This For That: 100 Best Foods For Women
I found a terrific list of 100 healthful foods that every woman should include in her diet. Compiled by Alissa Miller on her blog at Nursing Degree.Net, she has grouped them into nine categories and you'll be pleasantly surprised by some of the foods on her list:
Overall health - Flax seed tops this list
Skin Health - Includes foods with high concentrations of vitamins E and A and anti-inflammatory properties such as avocados, hazelnuts, olives and spinach
Cardiovascular System - Onions, grapes and raspberries were a surprise to me!
Cholesterol - Oatmeal, almonds and garlic are among 10 foods in this category
Bone Health - Sesame seeds, beans and eggs are some of the foods that are rich in potassium, magnesium, calcium and other nutrients essential for bone health.
Weight loss - Dried papayas, watermelon and fruit smoothies are excellent foods that will fill you up and add some sweetness – not calories – to your diet
Nuts, Beans and Grains - Foods such as lentils, quinoa and barley provide lots of protein and a great substitute for red meat.
Antioxidants - Cherries, artichokes, blueberries are on this list of foods that are high in antioxidants, which can help reverse the damaging effects of oxygen on our bodies' cells. 
Super Foods - Acai and Goji berries top this list of 11 foods that are incredibly packed with important nutrients.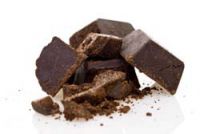 Can you guess what else is on this list?
Healthy Snacks - Pretzels, pistachios and graham crackers are recommended here for low-cal in-between meal snacks.
Healthy Desserts - An oxymoron? Not according to Alissa who explains, "dark chocolate with at least 60% cocoa can reduce blood pressure and is full of antioxidants."